Our Advantages
1.

Diverse Operations

We have photography operations in a diverse amount of venues and have the technology to create profit making ventures.

2.

At The Edge Of Technology

We monitor and develop and implement new technology to make customer enjoyment paramount.

3.

Picento The New App

Themeshots are developing Picento a new and exciting Smart Phone App that will revolutionize Photography on Theme Parks & Attractions.

4.

Managing Director

Stephen Lee is a hands on MD always at the front end of an operation monitoring and develping customer experiences.

5.

Commercial Service

With a Theme Park operation, Themeshots always provide that commercial and advertising presence for PR and Advertising purposes.

6.

Experience

Themeshots have been in the business for over 20 years, an experienced company that just knows how to do it right.
A few words about us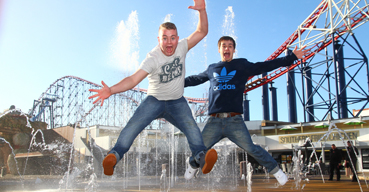 Photography For Theme Parks & Attractions
Themeshots is a leading photography supplier and developer for the attraction & tourist industry, specializing in Theme Parks, Attractions, Shows, Events and Hotels and Casinos.
With offices in Las Vegas and Blackpool in the UK, we can offer services to a huge amount of clients.
Solutions That Work.
We find the solution that works for your venue and make the photography concession work to its full advantage. We can take loss making operations and turn them into a profitable fun business, with great presentation and highly trained professionals we just know how to do it right.
Website Info.
This website will introduce you to the many different activities and venues Themeshots are involved in, ranging from photographic operations at Theme Parks and Attractions, to West End Shows, and from Las Vegas style Cabaret Venues, Arena Shows and Circus events, to Cruise ships.
Commercial Photography Service.
For all our clients we offer a commercial and advertising photography service with Stephen Lee and Red Box Studios, clients benefit from some great prices and discounts from our standard price list.
Read More
Testimonials
The Themeshots photographers at The Fountains at Blackpool Pleasure Beach are just amazing, Ive never seen such amazing work.

- John Fitswilliam / Customer

I want this service on my Theme Park...

- David Blundell / Manager

Brilliant Pictures

-Jim Wilson / Web Designer

The photographers not only take pictures, they entertain the customers.

- Dominique / Blackpool